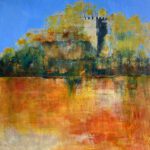 TARPEY GALLERY OPEN 2023
Delighted that All Saint's Church has been selected for the Open Exhibition at the Tarpey Gallery this year.
The exhibition runs from 22 July to 27 August and will be packed with fabulous pieces of contemporary art. It's always well worth a visit.
Tarpey Gallery, 77 High Street, Castle Donington DE74 2PQ. Open Thursday to Sunday, 10 am to 5 pm.
CHRISTMAS OPEN STUDIOS      Studio 105, Krowji, West Park, Redruth, Cornwall  TR15 3GE
If you're in the Redruth area the first weekend in December it would be great to see you.
There are over 60 creative folk opening their studios so lots of things to see and do to get you in the festive mood.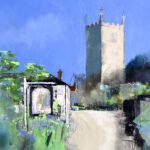 SOUTH WEST ACADEMY OF FINE AND APPLIED ARTS
Farm Lane and Beyond and Zennor, Cornwall have been selected by the South West Academy for their Open Exhibition, which runs 01 to 15 November 2022.
South West Academy of Fine and Applied Arts Open Exhibition, Kennaway House, Coburg Road, Sidmouth, Devon  EX10 8NG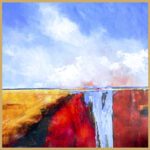 ROYAL BIRMINGHAM SOCIETY OF ART PRIZE EXHIBITION
Hayle Estuary has been selected by the RBSA for their prize exhibition, which runs           15 September to 15 October 2022.
RBSA Gallery, 4 Brook Street, St. Paul's Square, Birmingham  B3 1SA.
COASTAL NOTEBOOKS
A new edition of journals and notebooks inspired by the Cornish shoreline and sea are now available to purchase.  You can view the full range on the Journals and Notebooks page.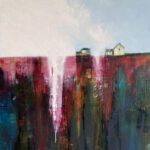 TARPEY GALLERY SUMMER EXHIBITION
Life on the Edge has been selected by Tarpey Gallery for their Summer Exhibition.  The exhibition runs from the 16 July to 14 August 2022.  
Tarpey Gallery, High Street, Castle Donington  DE74 2PQ.